DLX
DLX Standard features both hinge open and lockable secure options;
Exclusively designed to fit energy efficient and long life span LED light source;
Designed and assembled in Sydney, custom built to client's specifications;
Rigid 2 parts aluminum extrusion, suitable for size up to 1220x2440mm;
Suitable for all illumination display purpose, especially for jobs that require external setup and some water resistant;
In-stock sizes available to fit standard A2-A0 image;
Powered by industry leading LumiPanel®, 30 years non-yellow;
Scratch resistant anodised silver and satin black as standard, plus custom paint;
Artwork can be printed and pre-installed before shipping, available modes are Quality Density and Day and Night.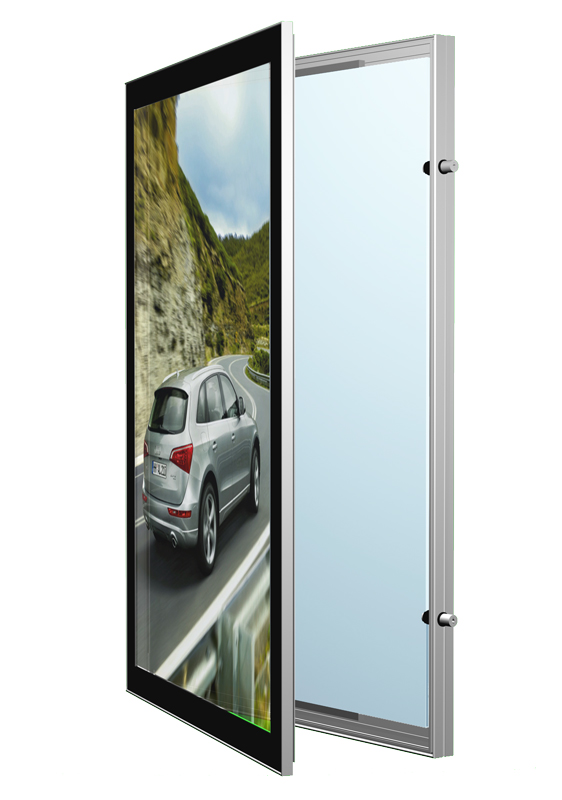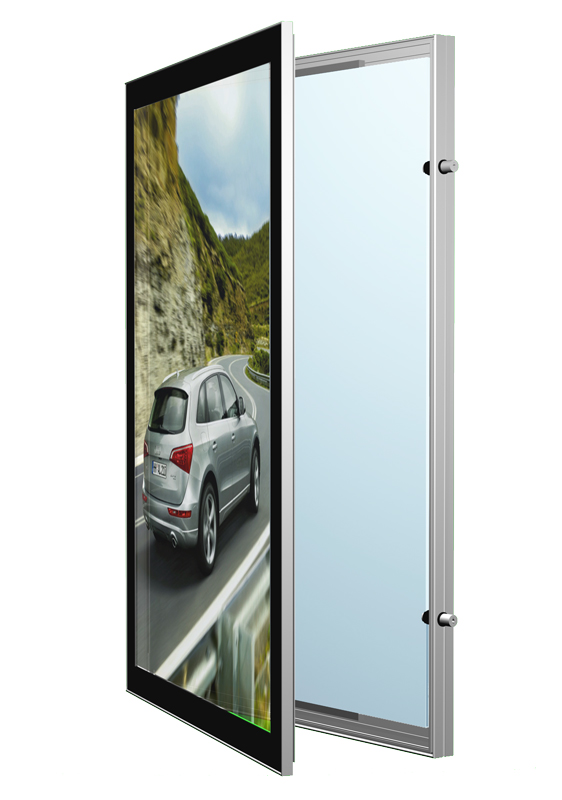 DLX Hinge Open is designed for small to medium size illuminated display applications that require external use capability with some water resistance and maximum security. Suitable for jobs such as pub, cinema and bus stop signage. It can be wall mounted and suspended.
DLX's chassis is made from the rigid 2 part DLX50 aluminium extrusion, 50mm deep including door and base and it comes in an anodised silver/satin black frame, with a standard 50mm silver/black matching border. The 30 year non-yellowing edge-to-edge clear acrylic/polycarbonate face is fitted with an easy-to-access turn lock system and the image can be mounted using pre-applied magnetic strips.
DLX can be configured with industry leading waterproof lumiPanel®, It can be fitted with both backlit and edgelit LED setups using latest 12/24v efficient and durable(approx 40,000 hrs normal usage) high lumen density SMD LEDs, achieve up to 7000lux. Choose from 3000-10000 kelvin colour temperature. AC/DC adaptor/power supply included.
Every DLX is built strictly based on Australian Standard and assembled in our Sydney production facility. We stock standard sizes and custom built to client's specifications. This product is designed for indoor and outdoor use with 12 month warranty.
*Limited protection from condensation, require outdoor-grade print.
Bezel Width
50mm (Vary)
DLX
Depth Height
50mm
Light Source
LED
Availability
Face Holder
Face/Backing
Light/Parts
Installation
Custom Built
A
Snap-lock
N/A
1mm clear PETG face
N/A
Edgelit
S
Outdoor use
S
Standard Sizes
A
Magnetic
N/A
2mm clear acrylic face
O
Backlit
O
Wall Mount
S
Colour
Lockable
S
3mm clear acrylic face
S
Built-in adaptor
O
Freestanding
O
Black

S
Insert
N/A
3mm opal acrylic face
O
External adaptor
S
Suspension
O
Silver
S
Image Holder
3mm clear polycarbonate
O
1m Cable
S
3D Lettering
N/A
Custom colour
O
Magnetic
O
3mm PVC backing
S
Extended cable
O
Double side tape
S
3mm ACP backing
O
Clip/Sandwich
N/A
S: Standard

O: Optional

A: Available

N/A: Not available
Available on Slimbox® Store
HINGE OPEN - DLX (Std. Sizes)
DLX A2 - 500x675mm
DLX A1 - 675x920mm
DLX A0 - 920x1270mm
Designed and Assembled in Sydney, 12 Month Warranty;
Available to Ship: In-stock, Australia Wide;
Prices are exclusive of GST & delivery charges.